Modern Library "Woodcuts" List
Entering the Series Between 1982 and 1986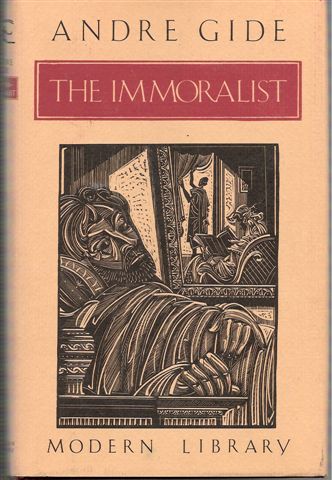 The Modern Library Woodcuts have the following characteristics:
Tan dust jacket with title-specific woodcut image on front, with author name at the top followed by the title in red block. The spine contains either the title and author in red block written vertically, or (like the front) author name followed by title in red block written horizontally at the top.

Price on front jacket flap. First printings had just a price, later jackets included prices (much higher) for both USA and Canada.

Binding is type 16 (regular) or G9 (giant), with torchbearer stamp on front cover; title, author and "Modern Library" in gold gilt on upper spine.

Torchbearer checkerboard end papers

Woodcut image also present on page before title page

ISBN on copyright page (this appears to always be in ISBN format, even when the jacket back has SBN format)

Jacket back contains the following quote from The New York Times at the top: "THE GREATEST BOOK BARGAIN IN AMERICA TODAY." followed by a line containing the words MODERN and LIBRARY with a torchbearer in between. There is a lengthy paragraph consisting of an ML advertisement, then the following statement: "For a complete list of Modern Library titles currently available, see inside jacket." The ISBN or SBN is printed in the lower right.

List of Modern Library titles inside the jacket. Titles are grouped by regular, giant, and anthology. Within each group, titles are ordered by author last name (anthologies by title). Each title entry is started with the last 6 digits of the ISBN. The titles listed include both woodcuts and the plain brown paper wrapper editions.

Rear jacket flap contains short author biography, duplicated on the last printed page of the book under the heading "ABOUT THE AUTHOR."
There's also an apparent Book Club edition of Eliot's Middlemarch with its own characteristics. This edition states "BOMC offers recordings and compact discs, cassettes and records. For information and catalog write to BOMR, Camp Hill, PA 17012." on the copyright page. Other differences are: No price on front jacket flap; no ISBN on jacket back, instead "Printed in the U.S.A." is in that location; no list of titles inside the jacket; blank end papers; and no copyright date. The back of the jacket retains the statement "For a complete list of Modern Library titles currently available, see inside jacket."
Special thanks to Benjamin Clark, Darrell Johnson, Barry Miller, John Peterson, and Trevor White for providing woodcut images, and to Bill Hornick for providing much content information.
Copyright © 2006 - 2015 The Amenities of Modern Library Collecting