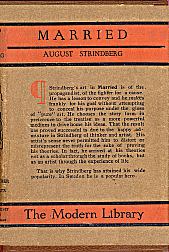 Most Modern Library issues had a catalog of currently available titles on the dust jacket, at the back of the book block, or both. The earliest titles—released in May, July, and September of 1917 plus Spring and Fall of 1918, all had catalogs in front of the book, each successive one with an increasing number of titles. The very first catalog, printed in May of 1917, listed the original 12 titles in the series.
The titles in the First Catalog were:
Wilde's Dorian Gray
Strindberg's Married
Kipling's Soldier's Three
Stevenson's Treasure ISland
Wells's War in the Air
Ibsen's Plays

France's The Red Lily
De Maupassant's Mademoiselle Fifi
Nietzsche's Thus Spake Zarathustra
Dostoyevsky's Poor People
Maeterlinck's Miracle of St. Anthony
Schopenhauer's Studies in Pessimism
The original dust jackets on these first catalog issues (as well as second catalog issues, printed in July of 1917) were distinguished by a drop-cap "new paragraph" editor's symbol in a reddish-orange (¶) on the front panel and at the beginning of the back panel text. Additionally, the jackets were about a quarter of an inch too short for the books. Few of these issues have survived with their first-state, first-printing dust jackets intact. They are the rarest of rare ML dust jackets.
---