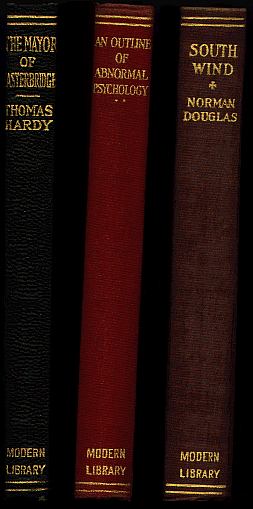 A transitional binding is any stop-gap binding that bridges the transition from the use of one major binding type to another.

The most frequently discussed period for a Modern Library transition is 1928-1929 when type 4 bindings (leatherette material with Bernhard endpapers and logos) were being replaced by type 5 binding (balloon cloth material with Kent spine, endpapers, and logos). The bindings have gold imprints like earlier leatherette bindings, but are bound in balloon cloth.

First printings of six 1929 titles appeared in the transitional binding:
Aiken, Ed., American Poetry, 1671-1928 (Jan.)
Flaubert, Salammbo (Jan.)
Dostoyevsky, Brothers Karamazov (Feb.)
Murphy, Ed., Outline Of Abnormal Psychology (Feb.)
Merejkowski, Death Of The Gods (Mar.)
Rostand, Cyrano De Bergerac (Mar.)
For an illustrated (albeit brief) discussion of this topic, see 1928-1929 Transitional Bindings.
For detailed illustrated discussions of binding types, see the Toledano Guide (reviewed elsewhere on ModernLib). For a more limited treatment, see Quick Guide to Regular Binding Styles.